Create, sell, and manage your courses
Used by coaches, teachers, e-learning businessmen

Hosting seminars, trainings, courses, offline and online studies

---
earned by GetCourse users (coaches, teachers, e-learning and edtech businessmen) in 2019

---
and more made over 880 of our clients in 2019
---
creating and selling courses with GetCourse
Starting from $39 per month
---
to get all necessary GetCourse services if you pay yearly, or $65 monthly
We use the platform to sell our own online courses for $500,000‬ monthly. That's the proof of GetCourse capability to help you make some profit.
Create courses, lessons, assignments. Check homeworks. Add tutors.
Selling tools included. Hosted on GetCourse or YouTube.
Your logo. Your domain. Your design.
Orders, offers and products. Analytics. Full-fledged CRM. Option to limited access to paid courses in any way.
PayPal, Fondy, Stripe and many more ready-to-go integrations.
Scheduled send-out, sent-viewed-read-clicked control, ready-to-use 50+ parameters of database analytics.
Landings, templates, blogs, ready-to-use registration and order widgets.
Automate everything: mailings, calls, recurrenting payments.
Flexible сommission settings, referral system, payments accounting.
GetCourse modules are closely interconnected.
There's no need to upload data to dozens of services and to pay for it separately.

Make the learning process convenient for you and your students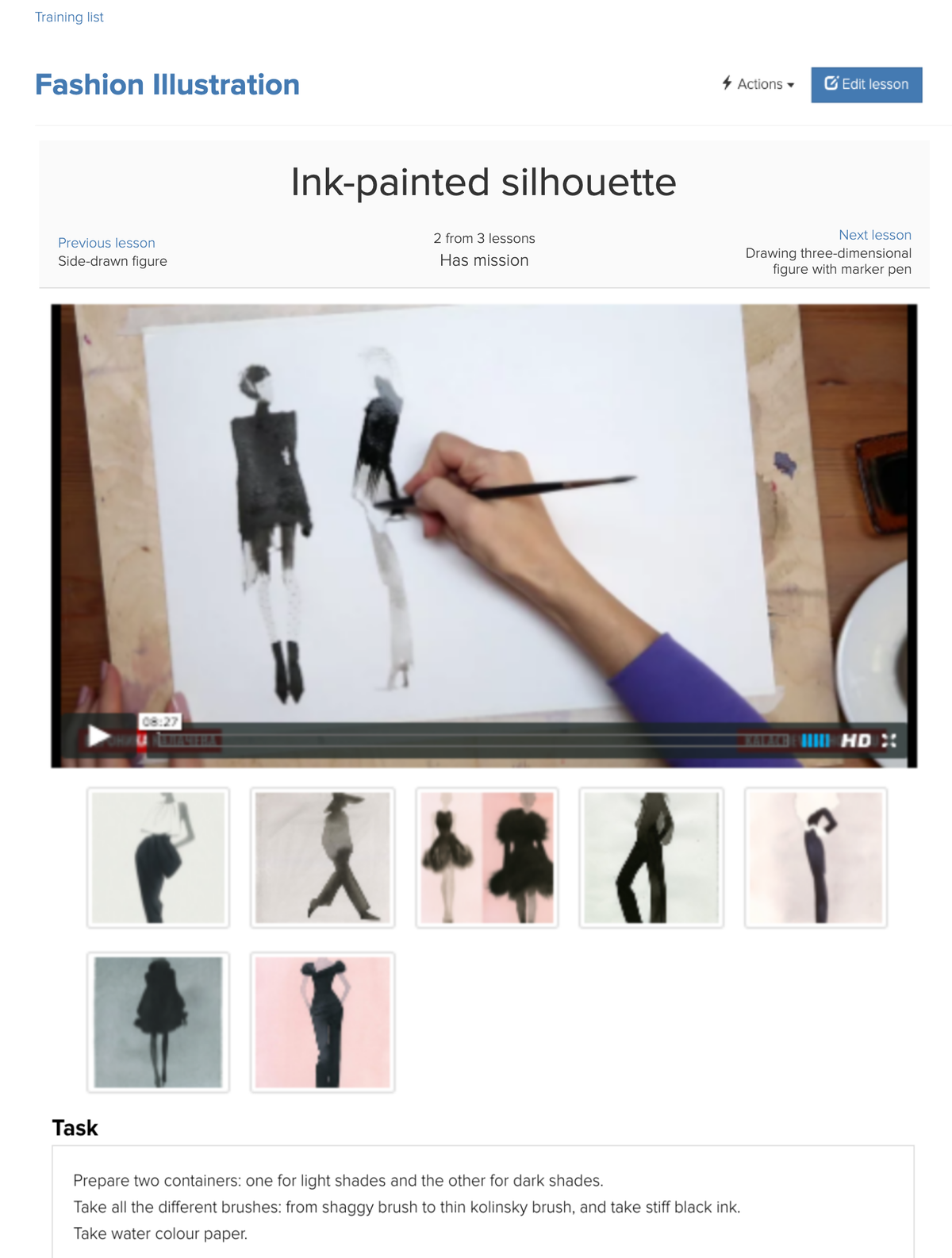 Create an unlimited number of courses, lessons, and user groups. Check the homework. You can assign a different tutor for each course too.
GetCourse can specify key tasks for your students. Until completed, the student can't proceed to the next lesson. You can always get up-to-date statistics on every student's progress.
LMS is linked to CRM. You can give access to certain courses only to those, who already paid, and close the access automatically at the end of the paid period.
You can create a schedule for each course whether you plan live webinars, or want to automatically open lessons with recorded videos. For example, if «every 2 days a student is given a new lesson» the student will be notified automatically.
Manage customer orders, accept payments, record and review calls, and much more
All clients data is in one place
You know everything about the student at any time: what courses he took, his current check, recorded calls (the sales manager's conversations with clients could be recorded).
Segment students using complex rules. For example, you can select all who «completed the first course and did not sign up for the second» or «received a newsletter about a new webinar and did not visit it».
GetCourse is designed for selling courses. Sell 'em in streams, make special offers, limit time-access to materials — all tools are fine tuned on a large scale of completed projects.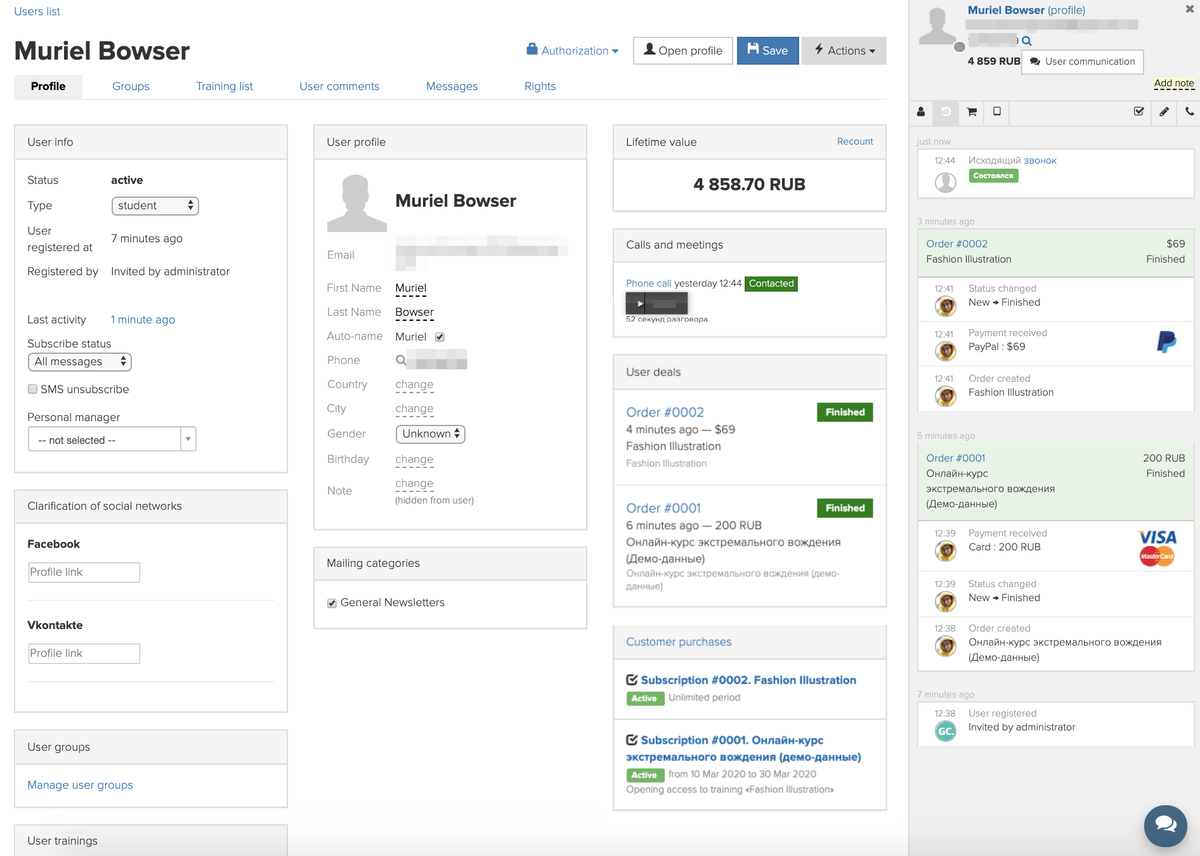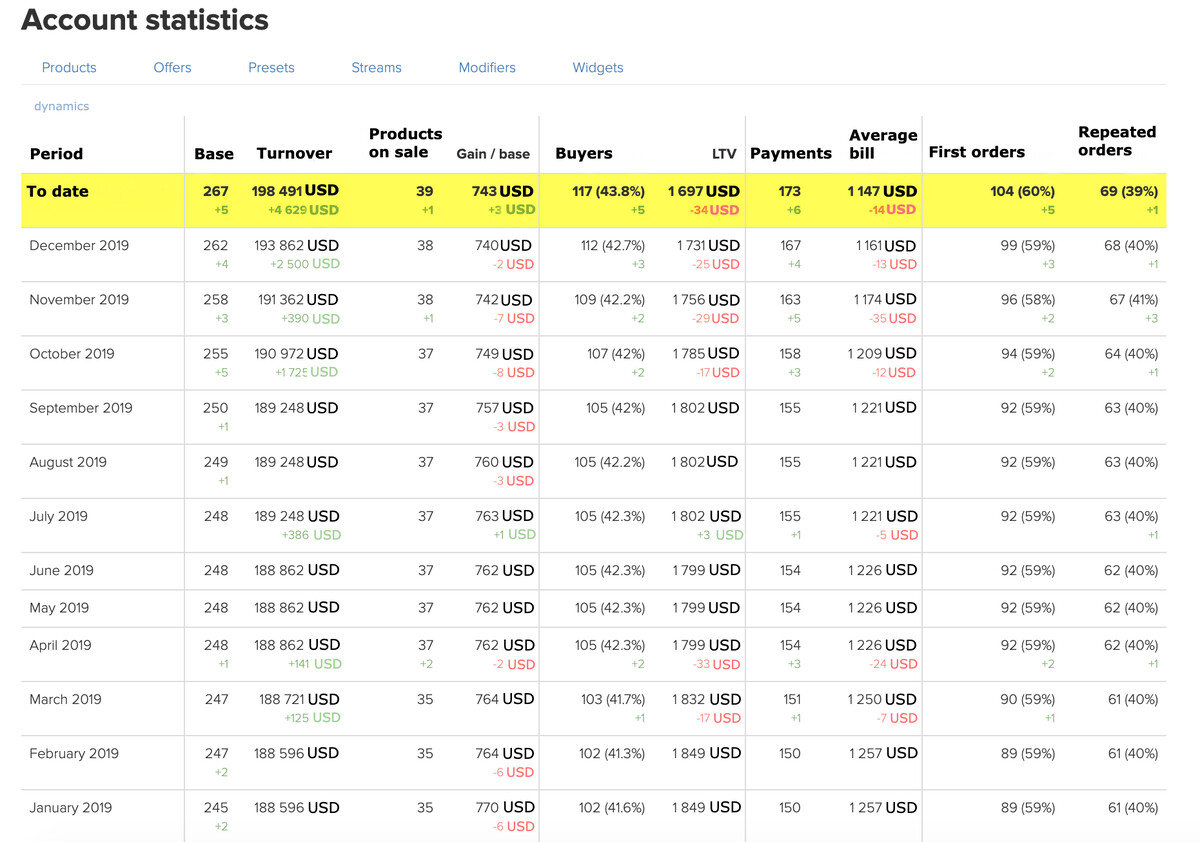 GetCourse allows using PayPal, Stripe, Fondy, Webmoney and many other services. You can invoice your customers and mark the check paid, when you've got your money. Access to the products will be opened automatically when the payment is received.
You know at any time how much money you've got, how many prepayments made, and how things are going with customer loyalty.
You can link any customer's credit card to his account and sell «subscription» to your products.
Full-fledged mailing service closely integrated with CRM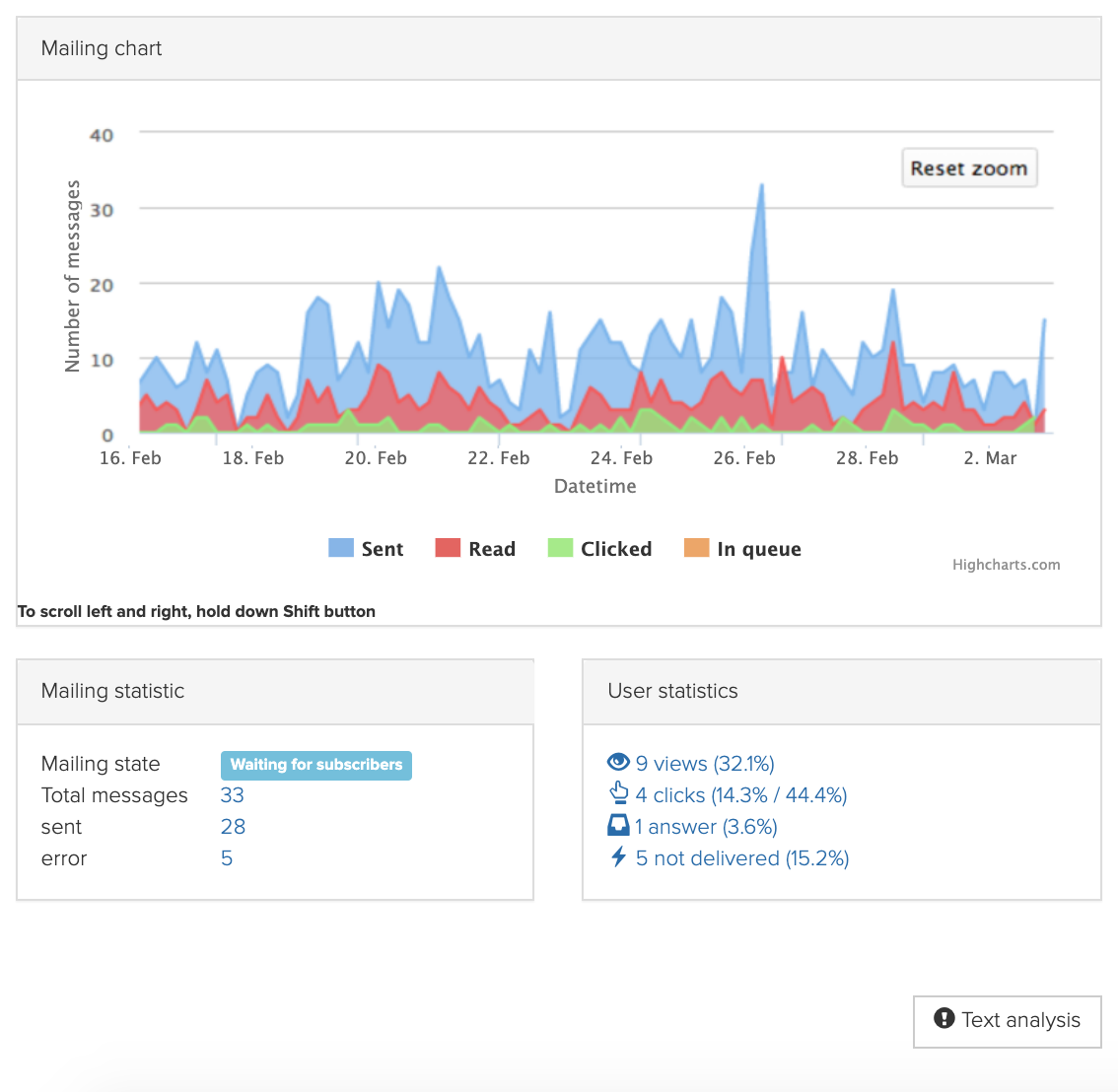 How often do you need to export customers' data to a mail service to send an email?
Using GetCourse, you simply select the group of people you want to send something to, make a text, specify when to launch your mail and click the «Send» button.
Emal series
For each group of people, you can send different email series to prolong effective communication increasing conversion.
Deliverability

We are closely monitoring the deliverability of the emails and analyzing the server response. You always know if the email was delivered, read or not, was the link clicked or someone unsubscribed.
Personalized links

Clicking such a link the person is automatically associated with the existing user. If such a user sees a form it'll be auto-filled. The user needs to click the checkout button only.
Build a cool adaptive page without a designer or programmer. That's how the page you are now reading is built.
Is it really hard to create a page?
Sometimes if:
You approved the layout, and the programmer says «we can't make it look good on smartphones».
You made a website for weeks on Wix, and then you don't know how to get customer data from the forms to keep tracking orders and payments etc.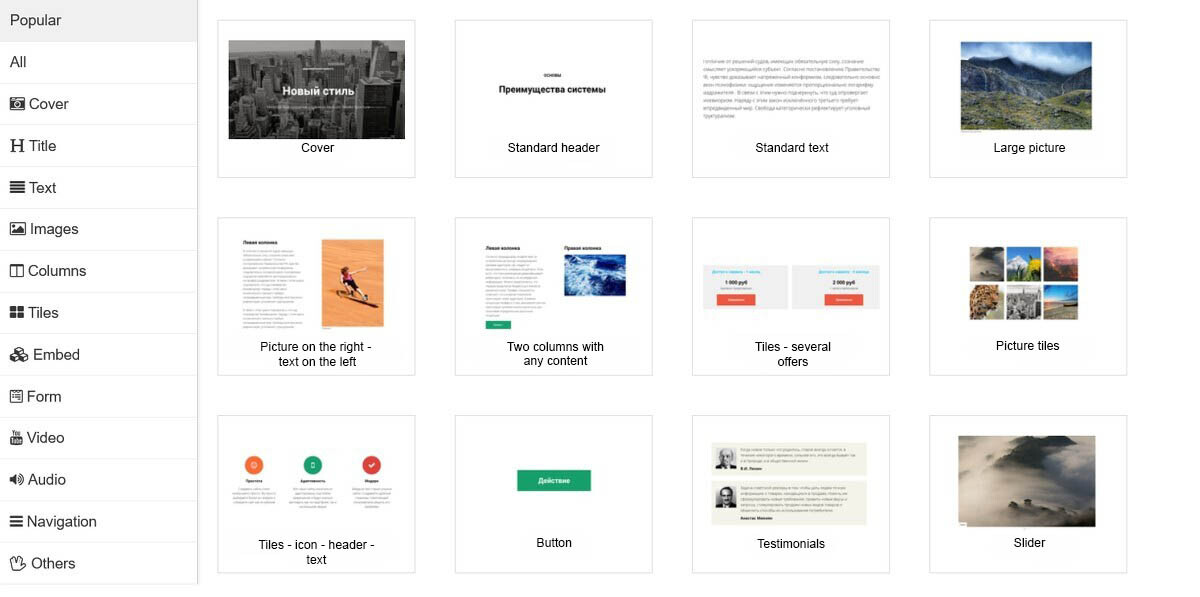 Premade blocks
We have prepared a set of popular blocks — video covers, images surrounded by text, titles, registration and order forms. Plus modal forms, columns, tile sets and menus. The header and footer blocks can be created once and used on multiple of your site pages.
Adaptive design
All blocks are designed looking good on your phone, tablet and laptop. You no longer need to double and triple your work to adapt your layout for different devices.
Integration is done
The key task of the selling web page is to collect information and funds from it's visitors. Data from the forms is stored in the built-in CRM system allowing to accept money and immediate mailing without further integrations.
Automate everything: mailings, calls, recurrenting payments.
When building your own business, you always have some ideas how to interact with your client. Have you already been bonded by a system's limitations? Or maybe you sometimes hear from your programmer: «I can do this in two weeks»? In GetCourse, you can configure everything (or almost everything) yourself with no programming skills.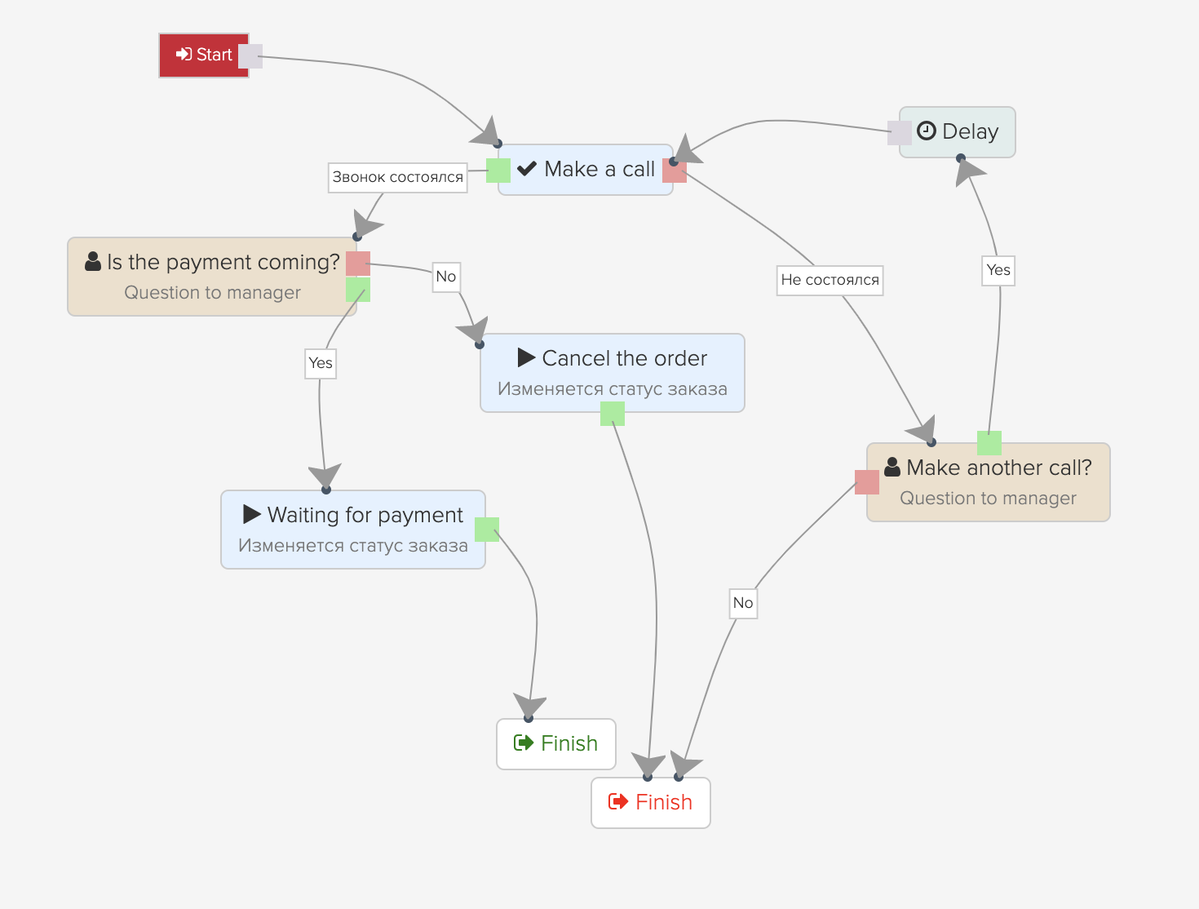 Sales Funnels

First, send the customer free content, then, if they have viewed it, make an offer, and if they have not viewed it, send another content with a different title. That's a simple start for the funnel. A full-fledged funnel contains several dozen conditions and in GetCourse is made without a programmer.
Call-center automatization

Show your manager what to say to the client, plan what time to call back if the client didn't respond, postpone call for an hour and show notification when time's up, send a letter/SMS using a template when order status is changing — all this settings can be made with no programming skills in a moment.
Recurrent Payments

For any chosen products, you can set up auto-renewal with recurrent payment — automatic transfer from the card after a specified period, after notifying the customer by email or manager's call.
You can control if you can measure
I've Got Google Analytics (GA).
Why Anything Else?
The most frequently configured web analytics goal is a purchase. And a typical recommendation is to make a page that is shown to the user after a successful payment, place a Pixel on it and thus count how many times the goal is achieved. Often the payment itself is completed on a third-party service (Stripe, Fondy, and others) without an automatic redirect to the desired page — the service only places a link that the user may (or may not) click. Therefore, 90% of sites where GA is set, the «buy» goal can't be measured in about 30% of payments. That's why we made our own Analytics module in GetCourse.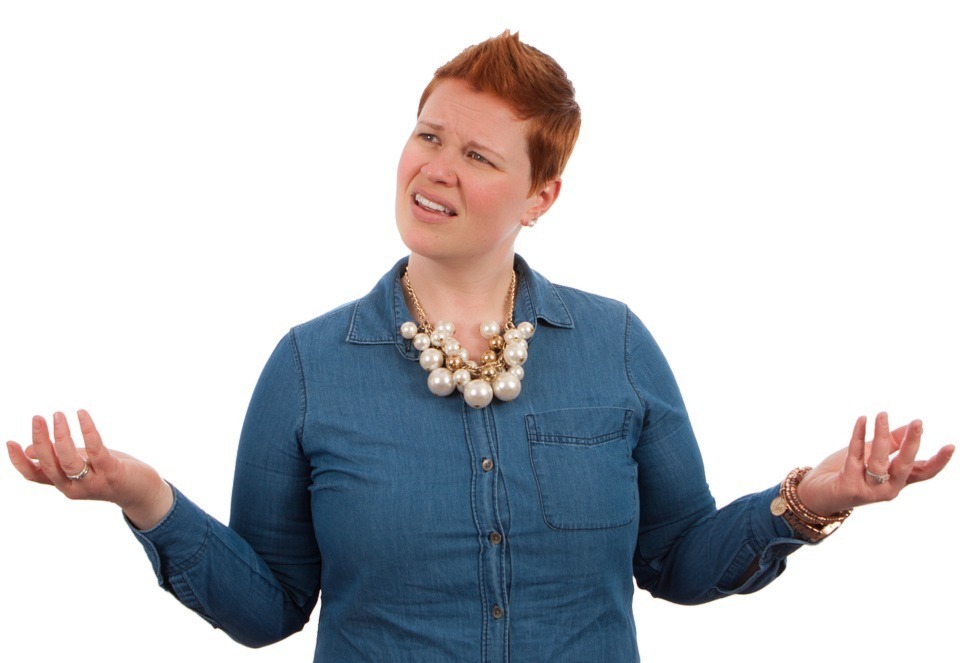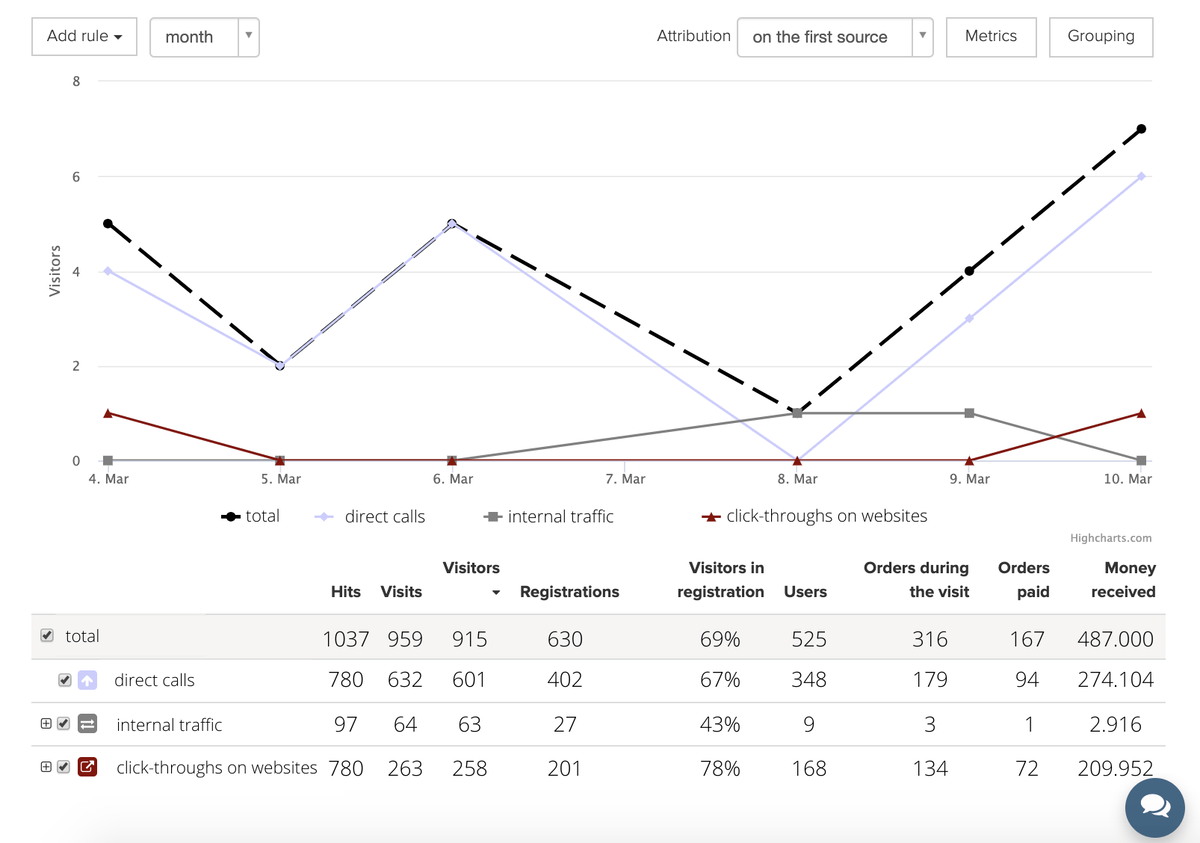 Key metrics all in one page — visitors, registrations, orders, payments and income. Exact numbers. Visually clean. For a certain period of time — by day, week, or month — as you wish. Filter your data by traffic channel or partners (if the traffic is driven by partners).
Conversion As An Indicator Of Health For Your Business
There are 3 types of conversion. The first one — from visit to registration — shows if the landing page, where you drive the traffic, meets expectations of users. The second — registration to order — tells you if the sales process is effective and your product's price matches the promised value. The third — order to payment — shows if you (or your call center) work well with orders received.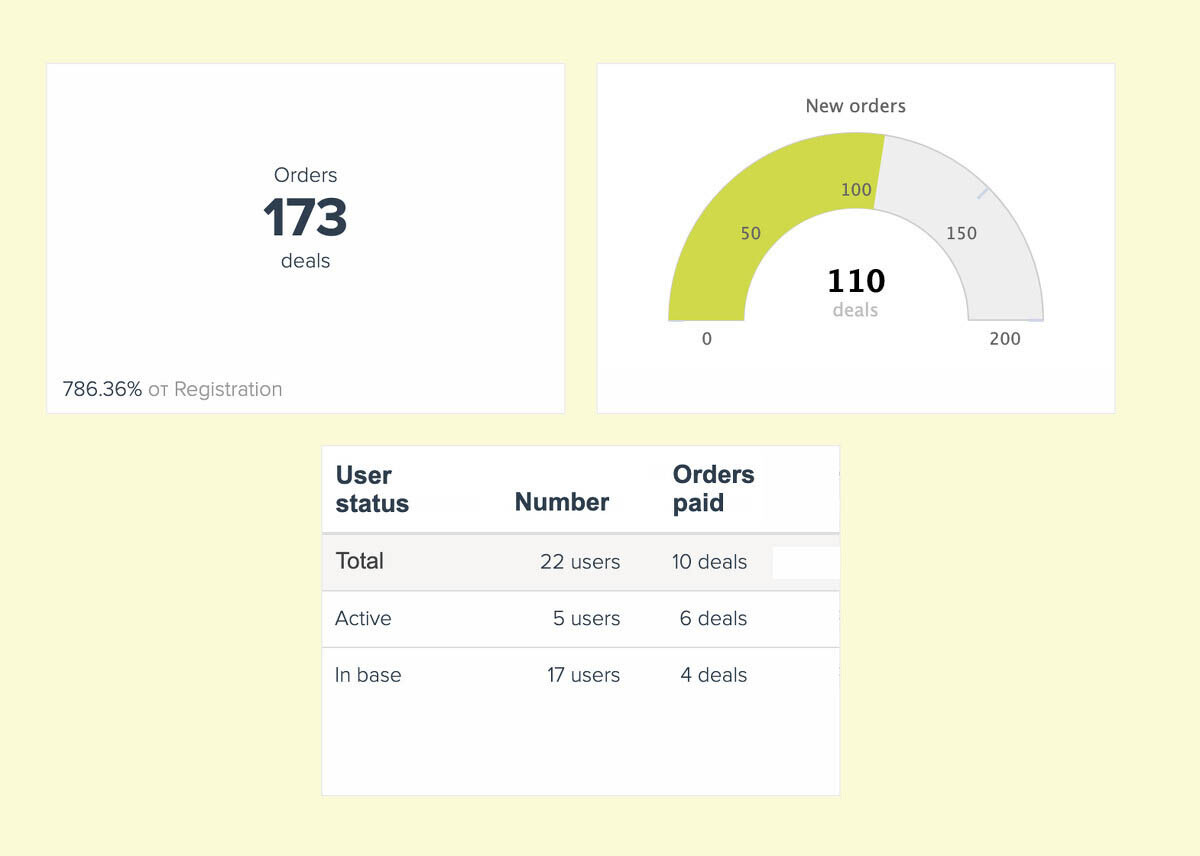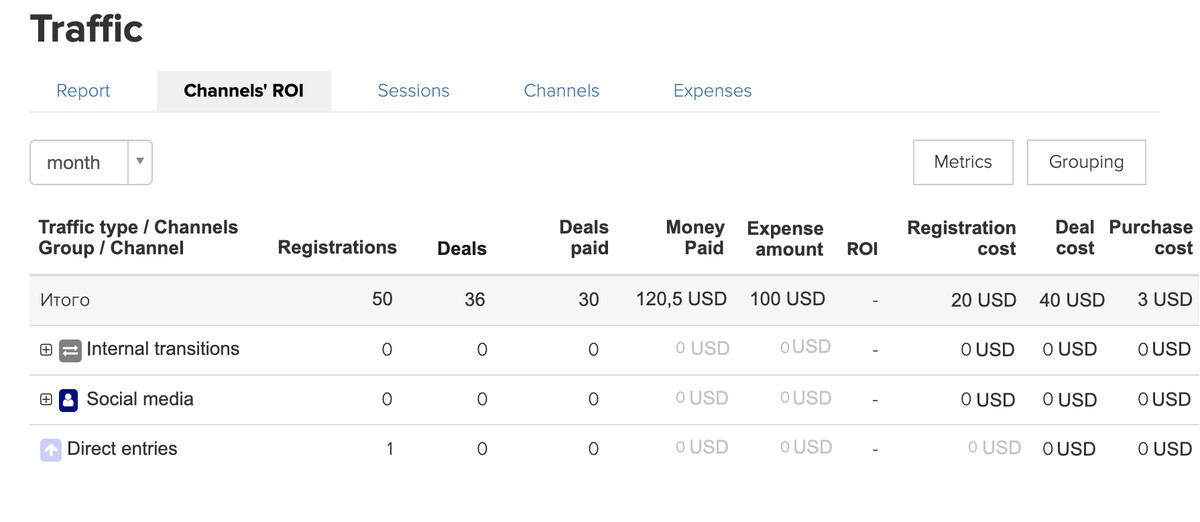 Overall Economics Of Your Business
Observe the amount of expenses: the cost of registration (subscriber), the cost of the order and the cost of payment (completed order). You can easily add all of the expenses for Google Adwords, Facebook and other advertising services.
ROI (return on investments)
Advertising expenses can be spreaded by channels and campaigns. This allows you to see the effectiveness (ROI) for each channel and campaign.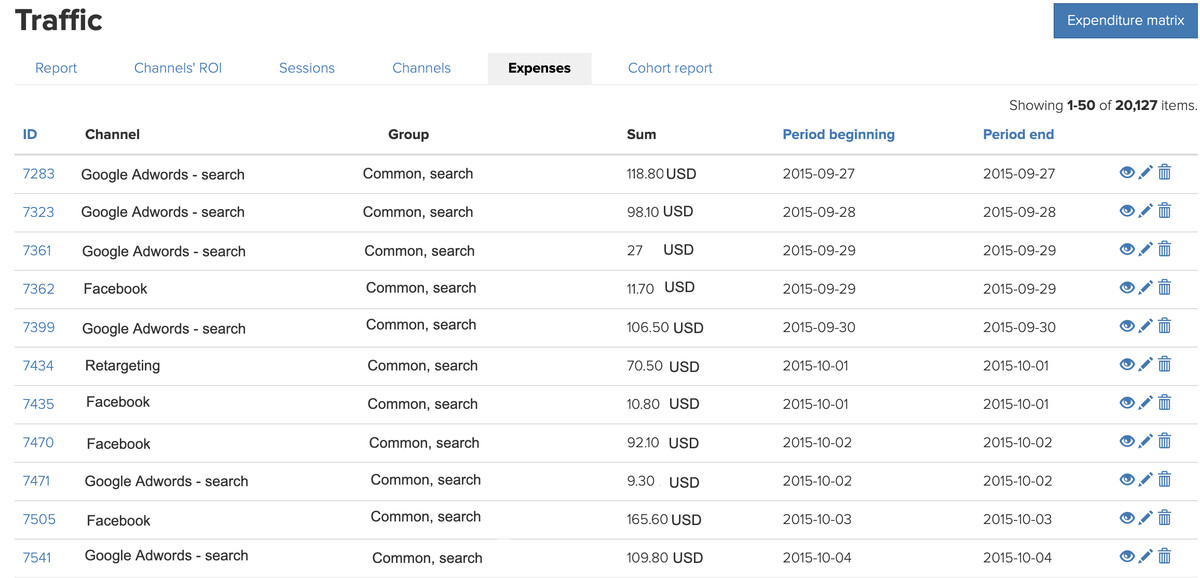 GetCourse covers the full circle of interaction with clients