Attention!
This option is available to the account owner only.
If you need to grant the administrator the right to change an account settings, read this article.
Please note: For binding, the domain must comply with the rules of the international standard:
start with a letter;

end with a letter or number;

consist only of letters, numbers and hyphens;

contain no more than 63 characters.
Source: faqs.org
1. If you want to send mailings with usage the same domain you have for your account on GetСourse, you need to delegate the domain to our NS-servers:
Add the domain to an account.
In domain settings choose "On GetCourse NS-servers" location option.
Add a record of GetCourse NS-servers in DNS zone of your domain.
Note, that the updating might take up to 72 hours.
All records that are necessary for mailings sending will be automatically set for your domain.
In "Email" section move a tuner opposite the domain and indicate email for sending.
That's all: the address for outgoing email is set up. Then you need to set the domain according to a guide.

2. If you don't want to link an account to this domain (an account is linked to another domain/sub-domain or is not linked at all), but want to set up mailings sending with usage of this domain, do the following: add TXT-record of GetCourse on a hosting provider side (note: CNAME-record is not needed to be made):
Add the domain to an account.
Choose "On custom NS-server" location option.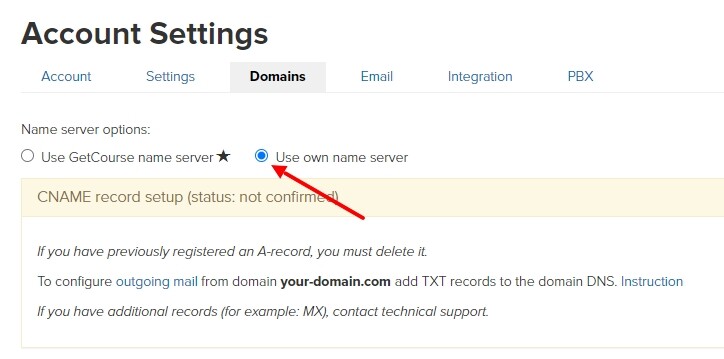 It is needed to set up an email for the second-level domain. It is not possible to do it for a sub-domain pointed to GetCourse even with the help of CNAME-record.

Go to "Email" section and move a tuner opposite the domain name.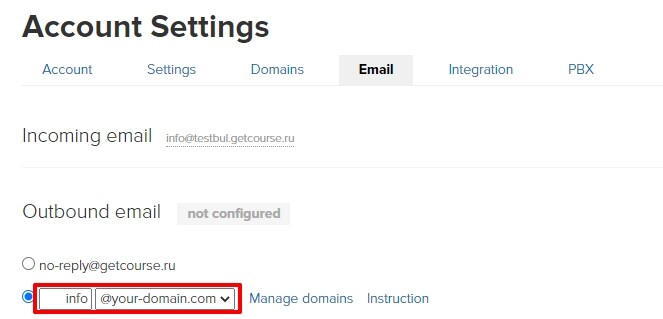 In DNS zone of the domain (on a hosting provider side) add SPF-record, where:
@ — record name (if a hosting provider doesn't allow using @ as a record name, specify the domain name with a dot at the end or remain a field empty).
TXT — record type
v=spf1 mx a include:getcourse.ru — record value.
Pay attention to the fact, that SPF-record should be only one.
If there is already SPF-record for the domain, you need to delete it or combine with a record of GetCourse (if you want to remain an opportunity to send mailings from other service).
In DNS zone of the domain (on a hosting provider side) add DKIM-signature, where:
getcourse._domainkey.domain.ru. - record name
TXT - record type
v=DKIM1; k=rsa; p=MIG… - record value.
There can be several DKIM signatures. For instance, if you plan to send emails not only from GetCourse, but also from the domain mail service, then you need to register an additional DKIM signature from your service.
If all the settings are made correctly, then after a while both indicators in the "Account Settings — Mail" section will turn green.