Sent messages (both within the mailing list and that are sent individually) are assigned statuses.
In this article we will look at the "Forbidden" and "Canceled" statuses.
If you see such a status, it means that the recipient's address has changed somewhere between the moment of formation of the mailing list and the sending of the letter to him. That is, at the time of the formation of the mailing list, the recipient fell under the condition of receiving letters, but after the start of the mailing and before sending him the letter, the recipient's data was changed and he ceased to meet the mailing criteria.
In each letter, we can see the reason why the message was assigned the corresponding status (only for letters sent after October 22, 2018).

If you see the "Forbidden" status of the sent message, it may mean that:
the recipient unsubscribed from receiving mailings (from all of them or this category only). And this happened after the start of the mailing, but before sending him a letter
the recipient registered via social networks and indicated the mail on the domains @facebook.com, @vk.com
the recipient was banned by the account administrator after setting up and starting the mailing, but before sending him a letter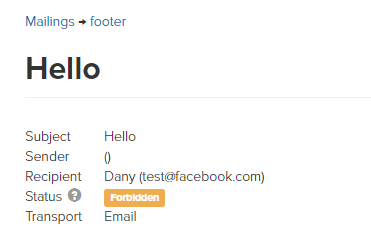 If you see the "Canceled" status of the sent message, it may mean that:
the recipient has dropped out of the segment for which the mailing is set up. And this happened after the start of the mailing, but before sending him a letter
the account is on the "Trial" tariff, the limit of messages per day is reached
the current has tariff expired, and the account was blocked at the time of sending the message
the account is not configured to send letters on behalf of its own domain and the limit for one mailing has been reached
the recipient is temporarily (for 7 days) unsubscribed from all messages, as there was a sending error in another platform account in which this user is registered