How to figure out that mailing got into spam on Gmail?
If your mailing got into spam on Gmail, then the messages will not be delivered to recipients' mailboxes, since the mail service will completely filter them out. The recipient will not be able to find the letter in the mailbox, either in the "Inbox" folder, or in the "Promotions" folder, or in the "Spam" folder.
In the mailing statistics, you will see a large number of errors in emails sent to @gmail.com mailboxes.

In this case, you need to contact Gmail technical support by filling out the feedback form.
It is necessary to attach the technical headers of the letter to the application. How to download them - read on the following instruction.
In addition to the file with technical headers, you need to specify the Message-ID individually.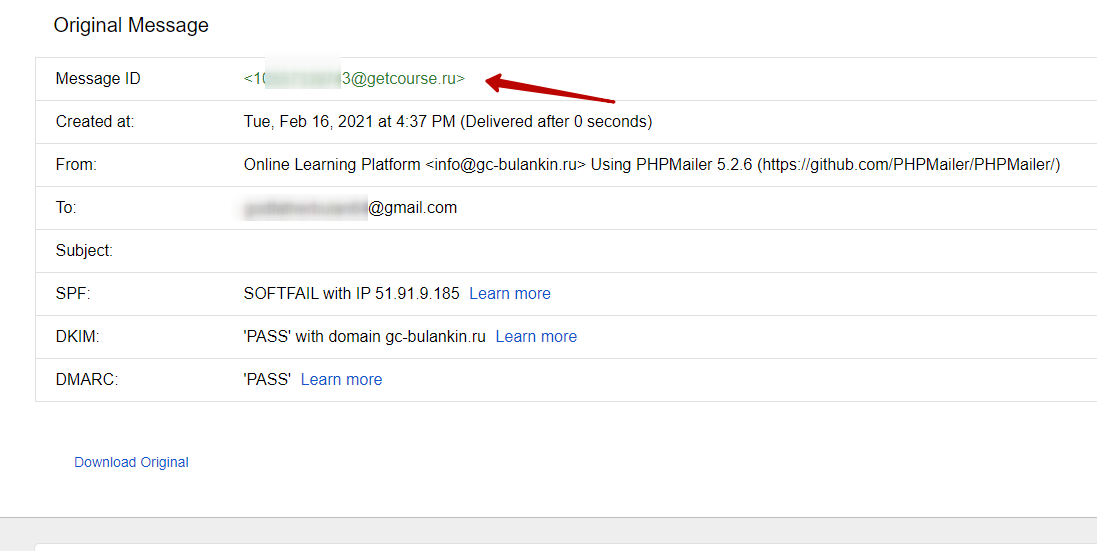 The error text returned by Gmail might look like this:
non-local sender verification failed
or like this:
This message does not have authentication information or fails to pass authentication checks. To best protect our users from spam, the message has been blocked. Please visit https://support.google.com/mail/answer/81126#authentication for more information.

This indicates that your domain and mail settings have not passed the automatic Gmail checks. You need to make sure that the domain and mail are configured correctly, pay special attention to the SPF and DKIM records. After completing all the settings, you should start sending mailings very carefully, not forgetting to warm up the domain, so as not to get into the Gmail blacklist, which can be very difficult to get out of.

Another example of an error:
IP [...] Our system has detected an unusual rate of unsolicited mail originating from your IP address. To protect our users from spam, mail sent from your IP address has been temporarily rate limited
This type of error is returned by the Gmail service if Google suspects that it has sent a large number of suspicious emails (spam) from the sender's IP address. In this case, Google includes a time limit on the number of emails accepted.
What to do if emails arrive but end up in the Spam folder?
If a message was delivered to a user at @gmail.com, but ended up in the "Spam" folder, this means that some elements of the message have alerted the spam filter.
In this case, you need to examine the service headers of the message. It is important to check if the SPF, DKIM, DMARC values were defined correctly.
After the analysis, you can contact Gmail technical support with a request to adjust the filtering. These requests are used to improve the filtering system, and usually no response from Gmail is received.