In this article we will consider details of a webinar

depiction, which was created in "Website" section - "Webinars".
Unlike the host, viewers see only the following elements in a webinar room:
Webinars name
Stream player
Selling blocks
Slides
A chat
Please note: only last 100 comments are shown in the chat. You can download all comments in "Comments moderation" section.

Also mind, that when watching a webinar from a phone, a video won't be launched automatically. Viewers need to click on it to start watching it.
Viewers mode is carefully specified for displaying from mobile devices.
By default, on smartphones and in desktop version the same blocks are depicted, but a viewer has to scroll down a page with a room. You can turn scrolling off to force a viewer be focused on what is shown by a host. In order to do that go to webinar edit mode and click on "Additional settings" - "Screen without scrolling".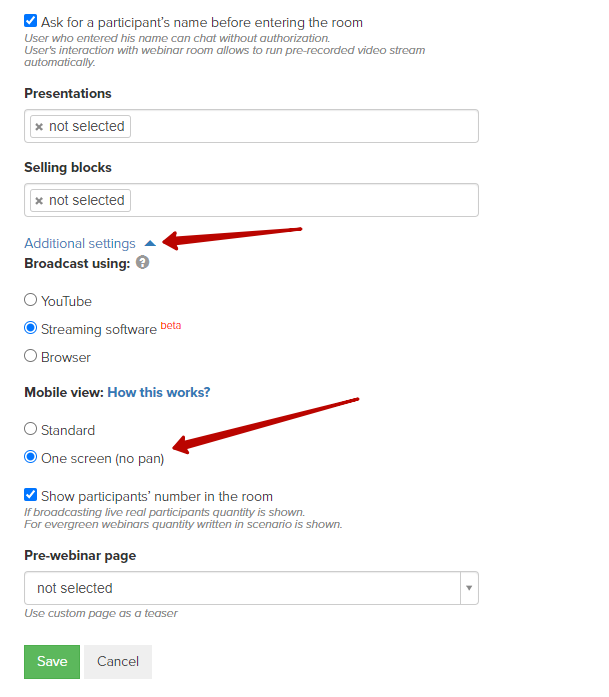 This mode automatically defines elements that will be hidden. A scroll bar will be absent, a viewer won't be able to scroll down.
The following elements will be depicted in this mode (in priority order):
A selling block (the highest priority)
A slide
A video
A chat (the lowest priority).
Only 2 elements are shown on the smartphone's screen. If a selling block is turned on, then only one element will be displayed - for example, presentation slide or video player (comments will be hidden).
If the room is in "Only slide + voice (without a video)" mode, then if a selling block is turned on, it will be depicted as well as a slide. Comments will be hidden.
A viewer will see comments in two cases:
Video (without slides and selling blocks)
Slide + voice (without a video and selling blocks).
That's why we don't recommend keeping a selling block turned on constantly, otherwise viewers with smartphones won't be able to leave a comment. Turn a block on for short periods of time when audience is ready to make a purchase. At this moment depiction of a selling block only won't let a user take his attention away from making a purchase.
Examples (press on image preview to view a full image):