---
Prohibition of simultaneous authorization
This feature protects against multiple people using the same profile. You can enable protection against simultaneous authorization on more than two devices simultaneously in your account safety settings:


When such protection is enabled, if the user is already authorized in two different browsers (or devices), when trying to enter the profile from the third browser, the forced exit from the first browser will work. The first in this case is the one in which there was no activity for the longest period of time.
Let's consider an example: a user is logged in on his home computer in the Chrome browser, as well as on his smartphone in the Safari browser, and is currently reading the text of the lesson from his smartphone. He shared his username and password with a friend, and when a friend logs into his account (opens a new session), at the same moment the first session will be automatically interrupted, a forced exit from the profile on the home computer in the Chrome browser will work — the user will be logged out there. Login to the session on the smartphone in the Safari browser will be saved, as well as the new session that the friend started.
Important: each browser is considered a separate session, including the «Incognito» mode.
Administrator login using the «Login as this user» button is not counted as a different session.
Employees and account administrators cannot be forcefully logged out.
Please note that only the account owner has access to the «Account settings» section by default. If you are an administrator and want to enable this feature, the owner must give you access to account settings.
---
Searching for suspicious users
The «Users» section now displays a new additional tab — «Suspicious users». This tool will help you find profiles that can be used by several different people: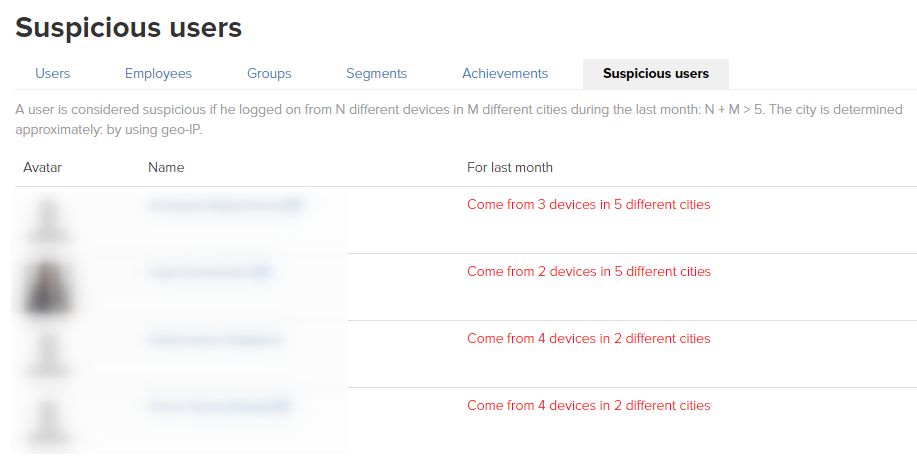 This page displays an estimated list of «suspicious» users — those who have logged in from a large number of devices. From this list, you can go to the list of visits of a particular user to analyze it.
The list includes those who entered from N different devices in M different cities in the last month, if
N + M > 5.
Different devices are identified by user-agent, two different browsers on the computer will be considered two different devices.
Different cities are determined by the IP geographical database, while, depending on the region, the division into different cities can be more or less large.
Please note that this tool only makes assumptions and does not prove that user behavior is incorrect. This data can be targeted and taken into account when working with the user database, but the account administrator should make the final conclusions.